Creating new data source
Note
It is now possible to create and manage access to data sources using our Customer Portal. Data sources that are registered in Dataporten Dashboard must still be managed there until they have been registered through the Customer Portal. It is not currently possible to register data owners or manage sources with multiple data owners using the Customer Portal. This functionality will be added later on. Read more about the further development of the Feide Customer Portal in the news article on the Feide website
If you experience issues with registering your data sources using the Customer Portal, please contact us at kontakt@sikt.no.
Dataporten Dashboard will be discontinued at some point. If you do still need to register a data source in Dataporten Dashboard, see Creating new data source in Dataporten Dashboard.
Only create data sources using the Customer Portal for which you are the provider.
If the data has multiple owners, we recommend the data provider create one data source for each. This will make the approval process for access to the data source easier for you to manage, as it is up to each data owner to decide if they want to share data with specific services. Data owner approval must be obtained outside of the Customer Portal, for example through email. Such approval flows will be supported at a later stage of the Customer Portal development.
You can register a new data source under the "Data source" tab in the Feide Customer Portal. Click on "Create data source".
When registering a new data source, the required steps are shown in the top bar. You need to fill out the required fields marked with * to complete creation. The information you enter will be saved for later if you can't finish everything at once. Remember that the optional fields could be useful for the consumers of your data source.
Information about the data source
In "About the data source" you need to register information about the data source.
This information will be made available to other users of the Customer Portal and later on feide.no and in Feide's APIs if you choose to publish the data source in the last step. Use this information to describe your data source to other consumers.
We recommend that you write the name of the data source and description in multiple languages to make your your data source easier to find.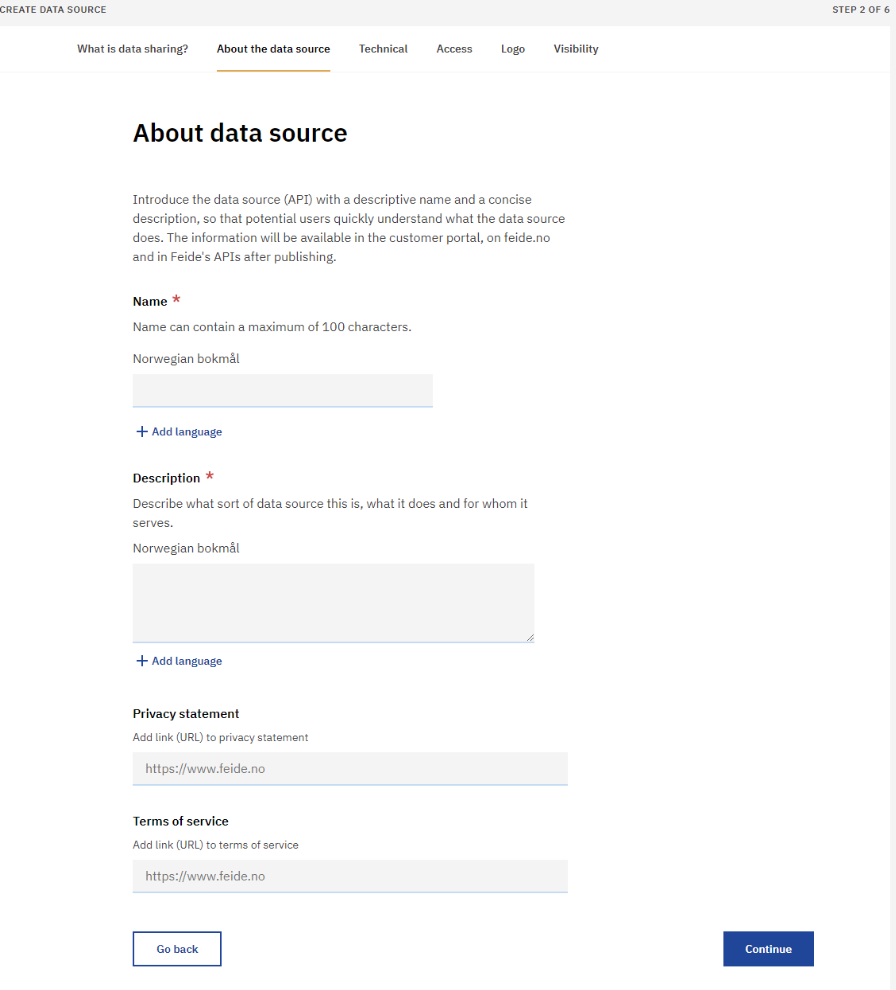 Privacy statement
A privacy statement intended to help organizations locate the privacy policy for the data source. You can enter a URL to a website containing the privacy statement of your data source. This link will be displayed when viewing the data source in the Customer Portal.
Terms of service
You can enter a URL to your terms of service if your data source has one. The link to the Terms of service will be displayed when viewing the data source in the Customer Portal.