Feide login with ID-porten
ID-porten is a common national login solution in Norwegian for online public digital services. It consists of several different known login methods, including MinID and BankID on mobile. The advantage of using ID-porten is that the user is automatically authenticated in Feide at level 3 and does not have to log in again with a two-factor method managed by the host organization.
To use Feide login with ID-porten, the users need to have their national identity number (norEduPersonNIN) in the host organization's directory. This is a mandatory attribute for all users with an official Norwegian NIN, so almost all users should already have this registered.
Activation of Feide login with the ID-porten is done in Feide's customer portal. This is done by editing the login methods on the organization tab.

Then check off "ID-porten."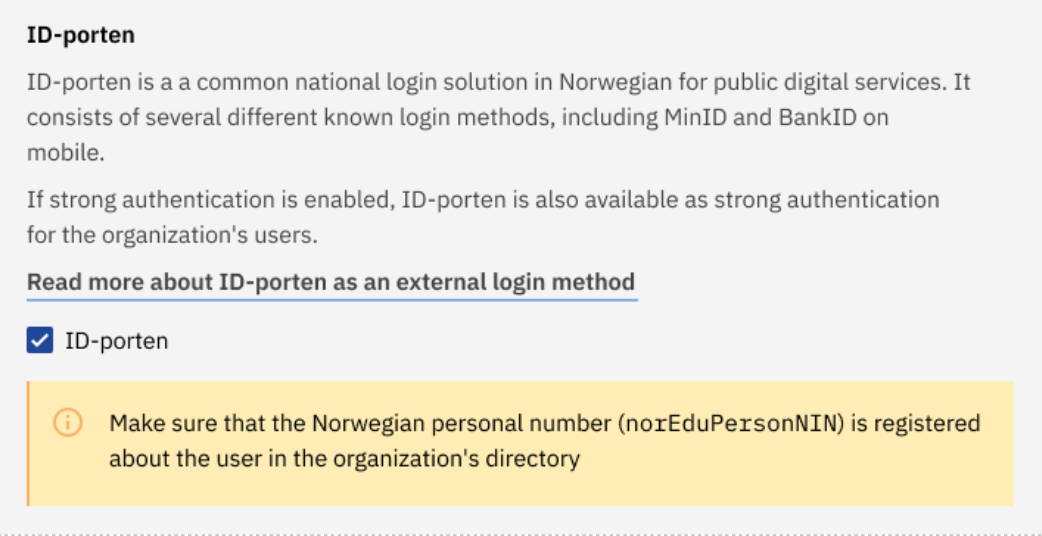 To save the change, click on Save at the bottom of the page.
It may take up to 10 minutes before the login with ID-porten is available as an option in the organization Feide's login window.
ID-porten as strong authentication
Authentication with ID-porten requires the organization to activate strong authentication in the customer portal. If the organization wishes to begin using strong authentication, they can read more about how this can be ordered strong authentication document.
Price for the use of ID-porten
Sikt will invoice host organizations that use the ID-porten based on their share of the total number of ID-porten logins through Feide.
The cost per login varies from year to year and is not set before Feide gets invoiced by Norwegian Digitalisation Agency/ID-porten because of their payment model. Sikt will re-invoice at the same price, and historically, the price has been around 0,35 Norwegian kroner including VAT per authentication.
See the terms of use with ID-porten login.
Statistics of the number of logins are not yet available in the Customer Portal. If there is a need for statistics over login, contact Sikt at kontakt@sikt.no.